Although yogurt is a sacred dessert for adults and children alike, did you know that it hides many unsuspected virtues?
For your hair, body, lips, and face, you will discover all the uses of plain yogurt in this post!
1. To soothe chapped lips
It is not uncommon that you suffer from chapped lips due to the sun or the cold. Thanks to a good yogurt, these tightnesses are only a distant memory! Yogurt contains fat and lactic acid like lip balms (based on shea butter or beeswax). These help to rehydrate the skin and make it soft.
Here is a small, natural, and effective recipe to soothe chapped skin:
– Pour a few drops of lemon juice into a bit of yogurt. 
– Apply to the lips and leave on for 45 minutes. 
– Finally, remove the excess with a cotton pad. 
– Finish the treatment by applying a nourishing lip balm. 
– Repeat several times a week.
Good to know: unlike the rest of the body, the skin of the lips does not contain sebaceous glands that prevent it from dehydrating in case of aggression (cold, wind).
2. To remove makeup
Are you running out of makeup remover or looking for a more natural solution to remove face and eye makeup? Look no further than your fridge and grab a yogurt!
It is easy to turn yogurt into a makeup remover: 
– Place 2 drops of sweet almond oil in a third of the yogurt. 
– Apply the mixture to clean skin.
Good to know: the milk it contains respects the skin's natural pH and protects it from external aggressions. 
3. In facial care
Yogurt has nourishing properties, so why not use it as a beauty mask or night cream? It's quick, simple and economical!
– In face mask: 
◦ Apply a layer of yogurt to the entire face, avoiding the eye area. 
◦ Leave on for about ten minutes and then rinse with clear water. 
◦ An effective mask, especially for oily skin, restores much softness to the skin.
– In night cream: 
◦ Gently massage your face with a few dabs of yogurt before going to bed. 
◦ In the morning, when you wake up, a fresh complexion is guaranteed!
Good to know: yogurt contains lactic acid. This organic material can exfoliate the face gently refresh it while removing dead skin.
4. For a flawless body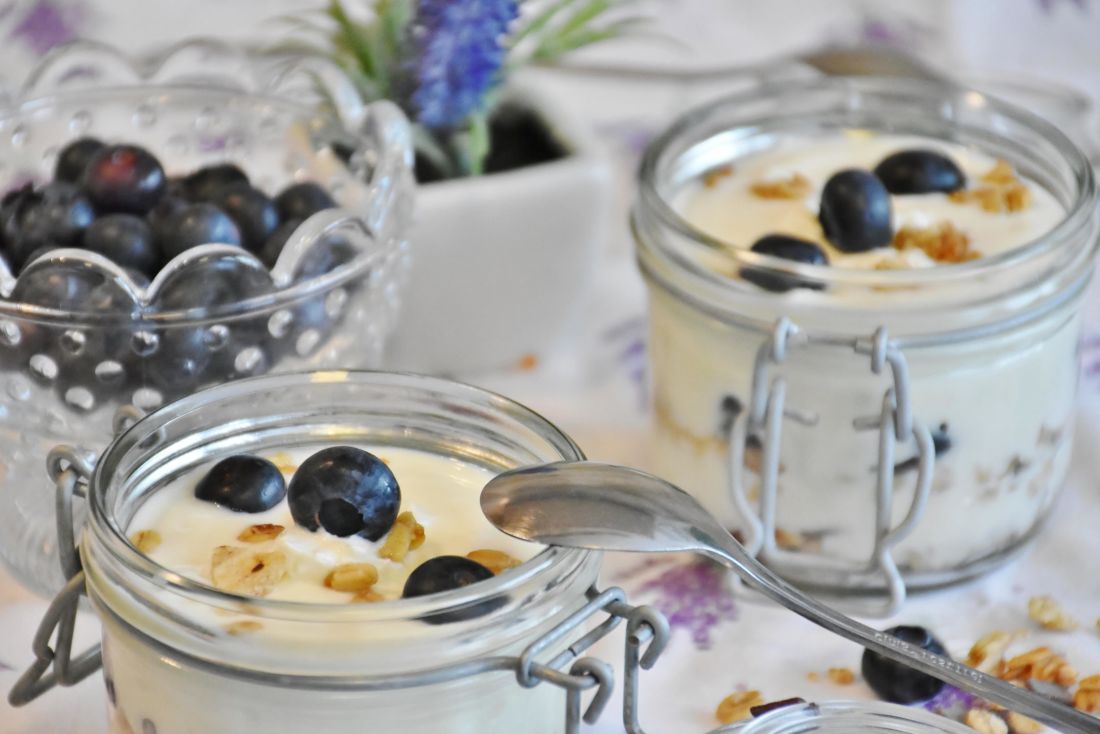 For the body, too, yogurt can have benefits:
– It reduces unsightly spots.
– It soothes the skin after sunburn.
– It helps fight against stretch marks.
Here are some magical uses:
– Against spots: 
◦ Pour a few drops of lemon juice into yogurt. 
◦ Massage gently for a few minutes on the affected area. 
◦ Repeat twice a week.
– Against sunburn: 
◦ Spread yogurt on the sensitive areas of your body attacked by the sun. 
◦ Immediate freshness effect!
– Against stretch marks: 
◦ Mix a little coffee grounds in a yogurt.
◦ Rub on the areas of the body affected by cellulite. 
◦ Repeat the operation regularly.
Good to know: yogurt, rich in vitamins and proteins, acts doubly against burns. It naturally moisturizes the attacked skin and eliminates bacteria.
5. For a sublime hair
Your hair is dehydrated, and you would like to make it softer and silkier? Make them eat yogurt!
The double-action of yogurt on dry or damaged hair:
– Vitamins and proteins moisturize, nourish, and soften.
– The lactic acid eliminates dead skin and makes hair shine.
For a yogurt mask: 
– Place yogurt all over your hair, focusing on dry ends. 
– Wrap in a towel and leave on for half an hour. 
– Remove the towel.
– Rinse your hair with water.
– Wash with shampoo.