Summary
 – Drug counterfeiting: definition
 – Counterfeit medicines in the world
 – Measures to fight against counterfeit medicines
 – Tips to avoid the risks of consuming counterfeit medicines 
 Counterfeit medicines are a fraud that can harm the health of the people who are deceived. Its considerable increase in recent years, due mainly to the sales of medicines on the Internet, has become a serious concern to governments.
 Many means of prevention and repression are implemented to fight against this public health scourge. The knowledge of the problem can allow everyone to avoid the risks related to counterfeit drugs. We talk about it in this post.
 Counterfeit medicines: definition
Falsified medicine is any medicine with a false presentation of its identity (name, packaging, labeling, components, dosages), its origin (manufacturer, country of origin, country of manufacture, marketing authorization holder), and its history (authorizations, records of documents relating to the distribution channels used).
 A counterfeit drug can be:
 – a product in which there is no active ingredient;
 – a product containing an active ingredient but in the wrong dosage;
 – a product containing other active ingredients than those of the genuine medicine;
 – a product containing toxic substances or impurities.
Good to know: Other fraudulent products that meet the definition of medicine by their composition or presentation may be sold on the Internet or in retail outlets without mentioning that they are medicines.
 Counterfeit medicines in the world
 In 2011, the WHO (World Health Organization) estimated that 10% of the global drug market was counterfeit, including:
More than 50% of medicines purchased on websites concealing their true identity ;

 30% of drugs are sold in developing countries, especially in South-East Asia and Africa.
 Industrialized countries are also not spared: in Europe, customs seizures of counterfeit medicines increased sixfold between 2005 and 2013.
 Counterfeit drugs enter most often by postal transport and can be offered in various retail outlets. 
 Counterfeit drugs from abroad concern all categories of medicines, including cancer drugs, malaria drugs, cholesterol drugs, impotence drugs (Viagra), antibiotics, painkillers, anabolics, and drug precursors.
 Measures to combat counterfeit drugs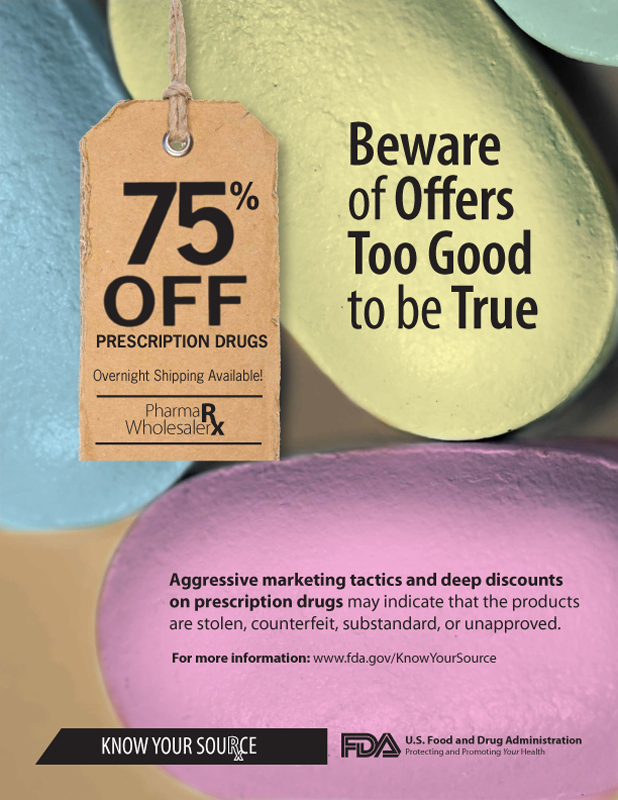 Over the past decade, the production and sale of counterfeit medicines have grown at an alarming rate, prompting governments to strengthen their measures to combat this scourge:
 In 2006, the World Health Organization created the International Medical Products Anti-Counterfeiting Taskforce (IMPACT group), which develops legislative recommendations to crack down on and prevent the risks of counterfeit medicines.
 The European Union adopted in 2010 a convention called MEDICRIME, which is the first international legal instrument in criminal matters that is specific to the counterfeiting of medical products. 
In 2011, the European Council approved a directive (2011/62/EU) to secure the legal supply chain of medicinal products. This directive provides for various safety measures for the dispensing of medicines, including:
 – a system of traceability of drugs to the box to detect falsified medicines;
 – a framework and security for the online sale of drugs: since July 1, 2015, online sales sites must display, on each page of the site that relates to e-commerce of medicines, the logo common to all EU member states; 
 – strengthened controls and effective and dissuasive sanctions in case of infringement of the provisions of the directive.
 Tips to avoid the risks of consuming counterfeit drugs
If you choose to buy a drug without a prescription on the Internet, beware of overly tempting advertisements and attractive prices and prefer official sites such as recognized e-pharmacies.
If you buy a drug outside the legal circuit, be vigilant about the elements that can reveal the presence of a counterfeit, such as:
– a defect in its packaging: damaged box, peeled off opening label…;
– a change in its appearance (size, color, shape, taste, texture);
– the presence of an unusual side effect or lack of effectiveness of treatment.
Finally, if the drug seems suspicious, refrain from using it and talk to your doctor or pharmacist, who will know what to do.