WHAT IS CRADLE CAP?
Cradle cap is an infantile seborrheic dermatitis. It is a baby rash that affects 70 percent of babies and sets in around 3 weeks following birth.
WHAT DOES CRADLE CAP LOOK LIKE?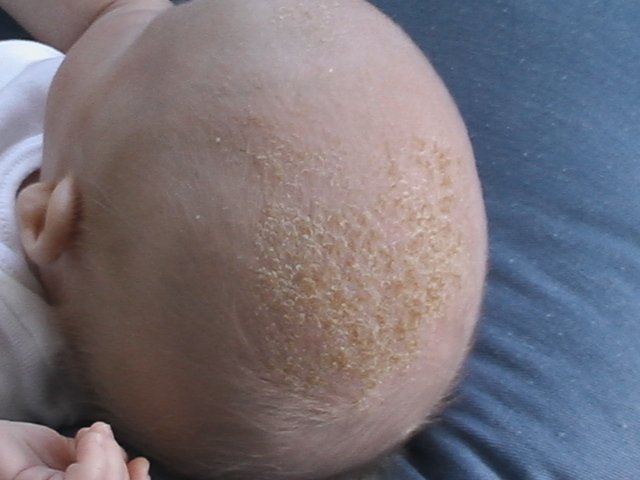 A cradle cap is a yellowish rash that is scaly, greasy, and flaky on the baby's scalp. It can sometimes set on the baby's ear, eyebrows, forehead, and upper torso. It has a distinctive cradle cap smell. The cradle cap can go from moderate to severe condition.
Under normal conditions, it has a slight oily scent, which is nothing to worry about. It results from a buildup of oil on the baby's scalp.
 But if you smell a pungent odor like stale bread, it can be that the cradle cap has progressed to a yeast infection. You should seek the help of a doctor. The severe cases are set in the following 3 – 5 months, where some hair loss can occur. But the hair will grow back after treatment of the rashes.
WHAT CAUSES CRADLE CAP?
Cradle cap in babies could be due to the hormones of the mother. Hormones pass to the baby through the placenta before birth or through breast milk. The mom's residual hormones cause the baby's sebaceous glands to secrete more oil. Excessive oil traps the skin flakes and prevents them from shedding. So, this leads to those yellowish scales.
IS CRADLE CAP CONTAGIOUS?
Don't worry if a baby has a severe cradle cap in your mom's group or family gatherings. Your baby is safe! The condition is not contagious. Not at all! In most cases, it goes away during the first year of life.
HOW TO TREAT CRADLE CAP?
The yeast may sometimes develop into a fungal infection. A pediatrician or dermatologist will likely prescribe a low-strength steroid cream.
Avoid scales buildup
Do not let the scales accumulate. The buildup can cause the cradle cap to worsen. Regular cleaning and brushing of the baby's scalp can remove scale buildup. Use only gentle bath products made for babies.
Don't scratch!
Do not scratch the baby's cradle cap rash. This will irritate the baby's scalp, leading to infection, which will make it longer to heal.
HOW TO GET RID OF CRADLE CAP
You can treat severe cases of cradle cap at home without prescription medicines. Here is a list of home remedies that do the trick.
Soft baby shampoo
For mild cases, the flakes will go away by often washing the baby's scalp with soft baby shampoo. With a soft brush, remove the flakes and scales.
Special cradle cap shampoo
Special cradle cap shampoos can also do the trick. They contain beta-hydroxy acid (BHA) and salicylic acid to exfoliate the patches.
Olive oil
Use olive oil to provide a moisture barrier for the baby's scalp. The oil softens the skin flakes, making them easier to brush off. It also provides a soothing effect on the skin and prevents inflammation. Rub a few drops of oil onto the baby's head and massage with your fingers. Do not allow the oil to sit overnight on the baby's scalp. The oil glands can get clogged, and the conditions may worsen. Rinse the oil off with soft baby shampoo and brush again.
Coconut oil
It works the same way as olive oil. Here, you get a few bonuses. It smells amazing! Besides, virgin coconut oil is more effective for the skin barrier than other oils. Massage on baby's scalp and rinse with shampoo and water.
Shave baby's hair
Shaving a baby's hair will not solve the issue. The baby may stay free from the cradle cap for 1 week, but it will come back again. But during that week, you can oil the baby's scalp every day. The oil will work better and get absorbed quicker on the shaved skin.
DOES CRADLE CAP KEEP COMING BACK?
The infection will go away after treatment. But in the following months, it does not stop the glands from making too much oil. It may start over again. Some babies may develop rashes such as eczema. So, yes. The cradle cap can come back.
WHAT SHOULD YOU NOT DO?
Avoid chemicals
A baby's skin is sensitive. You should avoid toxic chemicals. Never apply apple cider vinegar, hydrogen peroxide, or essential oils. They are too strong and will burn the baby's scalp. Also, avoid commercial shampoo.
CONCLUSION
Baby oil, olive oil, ointment, cradle cap shampoo may still be unsuccessful. Some over-the-counter antifungal creams and dandruff shampoos can treat cradle cap. Remember to talk to your doctor before using any adult product on a baby's skin and, good luck with your little one.
How did you find this post? Remember to write your comments in the section below.