Summary
    – What are the current treatments for VIDOC-19?
    – Diagnostic tests
COVID-19, caused by a virus from the coronavirus family called SARS-CoV-2, has invaded France and many other countries. This pandemic began in December 2019 in China (Wuhan province). Data on the care of people suspected or infected with this virus is evolving daily. Indeed, this previously unknown virus was only identified in January 2020, too recently to be known enough to set up effective instructions and treatments from the start.
What are the current treatments for
CO
VID-19?
For the moment, no treatment is directly effective against COVID-19's SARS-CoV2 virus (SARS-CoV1 being that of the 2002 epidemic). Since this virus has only been known since January 2020, it is still challenging to get effective medication.
The treatment is, therefore, to date purely symptomatic. It aims to fight against the symptoms by reducing the temperature, alleviating pain, rehydrating, oxygenating…
Hospitalization is necessary only in exceptional cases, especially in severe cases (discomfort and respiratory distress).
The health and medical instructions are regularly modified, taking into account the evolution of the epidemic and scientific knowledge.
Outpatient care, i.e., without hospitalization, follows strict rules that are regularly updated. You will find all the information on the website of the Ministry of Solidarity and Health.
Diagnostic tests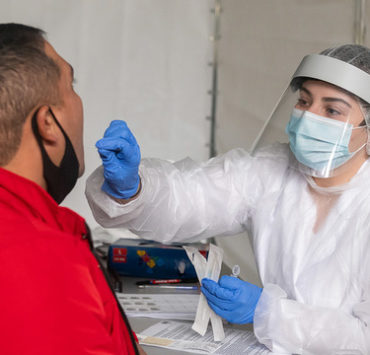 The diagnostic test for Coronavirus SARS-CoV-2 is clinical, meaning that the physician will rely on the person's symptoms to suspect a diagnosis of COVID-19.
It is not mandatory to take a swab to confirm the diagnosis. Sampling is carried out in specific exceptional cases (severe symptoms requiring hospitalization, health care personnel with symptoms of the disease, etc.) by trained and protected health care personnel under highly supervised and structured conditions to avoid contamination of the sampler and other potential stakeholders.
Good to know: masseur-physiotherapists have been added to the list of health professionals authorized to perform nasopharyngeal sampling,
If it is carried out, the sample is taken by nasopharyngeal swabbing, i.e., inserting a kind of large cotton swab quite deeply into the nose. This is a simple gesture that is more or less painful depending on the sensitivity of each person. The name given to the laboratory technique used to confirm that a person has COVID-19 is RT-PCR.
RT-PCR tests on saliva samples are also permitted in two circumstances:
    – as first-line testing in large scale targeted and repeated screening, such as in schools, universities, HPAE ;
    – as a second-line test for contact persons for whom a nasopharyngeal swab is not feasible (e.g., young children). And if they cannot spit either, saliva can be taken under the tongue with a pipette).
The rendering time of the result of a salivary RT-PCR test is the same as that of a nasopharyngeal RT-PCR test. It does not save time; its main contribution is related to its better acceptability.
Good to know: The saliva sample should not be taken within 30 minutes after drinking, eating, smoking, or brushing teeth, and the collected sample should be stored at room temperature and returned to the laboratory within 5 hours.
Besides, rapid diagnostic tests for Sars CoV-2 are officially permitted. They may be used for screening in the general population but not for symptomatic individuals or contact cases. If positive, this test must be confirmed by RT-PCR.
Please remember to share this post in your network and share your comment in the section below. Everybody is most welcomed to share his/her own experiences of the pandemic. In the await of a cure, we wish you all good health. Stay safe, and together we will eradicate this virus.