Summary
– Yoga definition: a lot of preconceived ideas
– Yoga, a state of mind
– Yoga definition: the different actions
– Yoga: one name and several practices
– Yoga: 99% practice and 1% theory!
The principles of yoga are to relax the mind while acting on the harmony of the body.
Yoga definition: a lot of preconceived ideas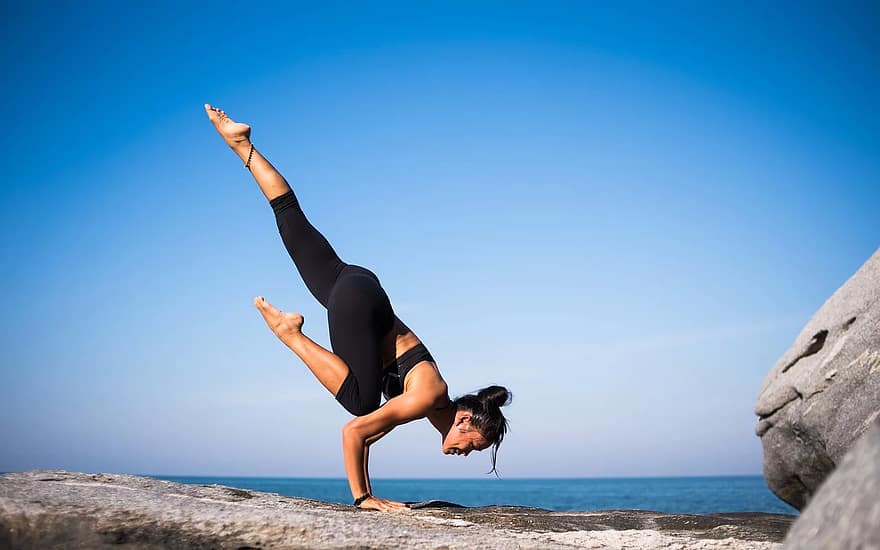 Yoga has long been considered a set of slow exercises mainly for women and retirees: preconceived notions. Yoga is for everyone, unless there are specific contraindications, and can be done by anyone:
– be dynamic and fast,
– exercise all the muscles of the whole body.
Today, yoga tends to gain a broad audience. The craze for alternative medicine and a more calm way of life, designed to limit stress and its perverse effects, have helped restore yoga to its former glory.
Yoga, a state of mind
Yoga is a word in Sanskrit that encompasses several notions.
From a modern and Western perspective, yoga is considered an activity close to soft gymnastics, even if some current practices are dynamic.
It is neither a sport, nor a gymnastics, nor a religion. Still, it could paradoxically be considered a combination of all of these. yoga is a state of mind in which a healthy mind and a healthy body go hand in hand.
It belongs to the Indian "astika" philosophy and five other orthodox schools based on the Patanjali text known as the yoga sutra.
Note: Born in India about 5,000 years ago, yoga is based on various principles to develop the body to make the mind lighter harmoniously and the soul serene.
Yoga definition: the different actions
Yoga consists of a series of poses or movements (asanas) performed on a yoga mat.
Many benefits for body and mind
Yoga is considered an alternative or alternative medicine. If practiced properly, it can bring real well-being to both body and mind.
The benefits of yoga are at the same time:
– physical: flexibility, development of the musculature, strengthening of the spine, improvement in the aftermath of an acute myocardial infarction, which would be more effective than conventional cardiac rehabilitation;
– Psychological: relaxation, concentration, improved quality of sleep, and better daily stress management;
– Spiritual.
Good to know: Yoga could cut the risk of diabetes in half for prediabetic people at high risk of diabetes in just three months of practice (source: Nagarathna R et al.: Diabetes Prevention through Yoga-Based Lifestyle: A Pan-India Randomized Controlled Trial. American Diabetes Association – 79th Scientific Sessions [San Francisco, California]: July 7-11, 2019). 
Typically, people practice yoga for its beneficial actions: relaxation, energy flow, etc.
The postures of yoga allow us to:
– relax the body,
– harmoniously develop the musculature of the whole body,
– work the spine,
– to circulate energy at the chakras,
– calm the mind,
– learn how to breathe correctly,
– learning to concentrate, etc.
Yoga: one name and several practices
Generally speaking, yoga encompasses several paths:
– traditional methods: for example, karma yoga or raja yoga,
– standard practices: such as hatha yoga,
– more modern practices: such as bikram yoga or yogalates.
The most practiced yogas in schools is often hatha yoga.
Whatever the choice, it is essential to remember that yoga requires regular and assiduous practice.
You can read more here:
Please remember to comment on your experience in the section below and share this post. Also, do not hesitate to request a topic of your particular interest.