Summary
    – Why disinfect and decontaminate?
    – What should be disinfected?
    – How to disinfect and decontaminate?
    – Decontamination and disinfection: who can do it?
Decontamination and disinfection are specialized cleaning services such as disaster clean-up, fire clean-up, graffiti clean-up, or end-of-site cleaning.
It applies to all premises after accidents or industrial premises, the medical field, or the food industry.
Why disinfect and decontaminate?
First of all, it should be specified that the term disinfection means eliminating bacteria, germs, fungi, and viruses. Microbial destruction is the objective of decontamination procedures. Decontamination-disinfection is therefore used :
    – to limit the multiplication of germs;
    – to stop the spread of germs and viruses: this prevents the spread of epidemics such as seasonal flu, gastro-enteritis or simple colds;
    – ensure a healthy environment for staff: all premises frequented by employees or visitors must be regularly cleaned;
    – meet hygiene standards: in specific fields, such as the medical sector or the food industry with the HACCP "Hazard Analysis Critical Control Point" and RABC "Risk Analysis Bio-contamination Control" standards, disinfection is a mandatory step.
What must be disinfected?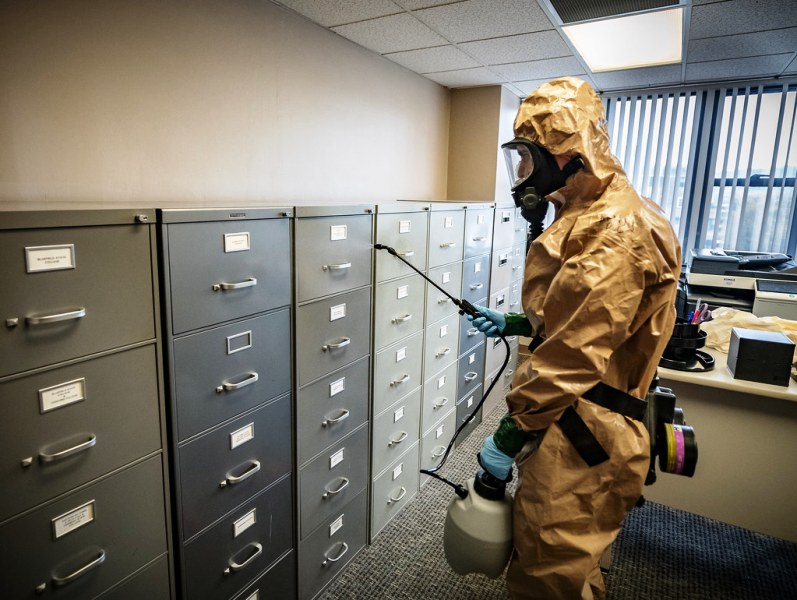 Here are the elements to be disinfected
    – surfaces in contact with the hands: telephones, door or window handles, etc. ;
    – Textiles that can support the proliferation of bacteria or mites: carpets, rugs, curtains, etc. ;
    – air: air ducts must also be purified, especially in offices and other commercial premises equipped with air conditioning.
How to disinfect and decontaminate?
There is no such thing as absolute disinfection. It is necessary to target the germs to be destroyed and to use the appropriate cleaning products and equipment for each surface:
    – Apply a wet solution with a brush or a cloth on the furniture.
    – Wipe the material with a microfiber.
    – Spray disinfectant solutions on wall surfaces to be treated or curtains.
    – Use a vacuum cleaner with disinfectant to maintain carpets and rugs.
    – Spray fungicides and bactericides in ventilation ducts.
    – Use a nebulizer: this device is used to generate a fine particle mist:
        ◦ It is used for sanitation of hard-to-reach areas in hospital cleaning or food processing companies (HACCP standards).
        ◦ You can also use it in the treatment of soot and deodorization.
        ◦ If essential oils are used (of lemon and white fir, for example), we can sanitize the atmosphere and reduce the risk of nosocomial infections (90% reduction of airborne germs).
Decontamination and disinfection: who can do it?
Disinfection can be a daily gesture carried out by anyone in the company. Nevertheless, products and equipment are usually reserved for cleaning agents who have followed a cleaning training.
Within the framework of a maintenance contract or at the time of specific services, the cleaning companies can carry out the disinfection of buildings or ventilation ducts. The specialized companies have the know-how and can make the most of the equipment and disinfection products. It is often a more profitable solution.
Hope this post has given you an idea of what decontamination and disinfection are all about. Should you have more information, please feel free to share it in the comments below. Also, should you wish to read on a more specific health topic, let us know below, and we'll get back to you. The more participants we'll have in the section below, the more enthusiastic it will be to come with new topics every time.
Read more:
What Are the Soil Decontamination Techniques;
All About the Infection Associated With Sepsis;
Why Call on a Pest Control Company;
How Often Should I Wash My Hands?